Youth Speaker and Honor Guard Training Seminar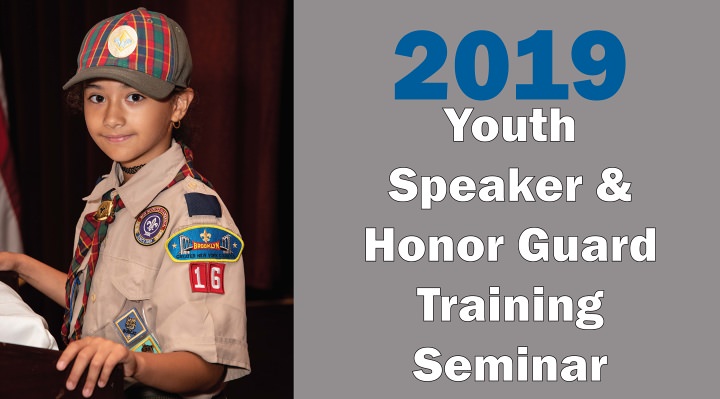 Date/Time:
Feb 22, 2019 10:00 am to 2:00 pm
Location:
Scout Service Center
475 Riverside Drive
1st Floor Classrooms, NY 10015

What is the Youth Speaker & Honor Guard Training Seminar?
Cub Scouts, Scouts BSA, Explorers and Venturers attending the event will learn practical public speaking techniques, tips on speech-writing, proper etiquette, and how to perform in the BSA Honor Guard during fundraising events throughout the year. In addition, participants must bring a prepared speech about Scouting and read aloud to the group, receiving constructive and positive feedback from seminar leaders.
Some Scouts who attend the event may be selected to speak at a GNYC fundraising event later in the year. (Attending the seminar does not guarantee being asked to be a featured public speaker.) We choose Scouts based on many different factors including: age, public speaking ability, Scouting experiences, camping participation, borough, specific Scouting program (example: Exploring), experiences, etc. However, all Scouts (Troops/Packs/Crew/Post) will have an opportunity to participate in the BSA Honor Guard if they would like. Each Scout that participates in the BSA Honor Guard will receive a patch and will fulfill Community Service & Rank Requirements!
Attention parents/leaders/Scoutmasters/volunteers
It is mandatory that the below information be submitted prior to the Youth Speaker & Honor Guard Training Seminar.
Program materials
Every Scout attending the seminar MUST come prepared with:
2019 Scout Registration Form
2019 Youth Speaker Bio (please make sure your Scout gives a detailed description for each question; this bio is included on the electronic form below)
Written speech (generally 3-5 paragraphs; download sample speech)
Prefer to send by mail?
Download the complete Youth Speaker Seminar forms here and mail to:
Jessica Kerin
Senior Development Officer/Youth Speaker Coordinator
Greater New York Councils, BSA
475 Riverside Drive, Suite 600
New York, NY 10115
ALL registration forms and program materials MUST BE SUBMITTED by 5:00pm on Wednesday, February 20, 2019.
(Please note: All Scouts MUST be in full Scout uniform - they will have their photo taken.).