Veterans Day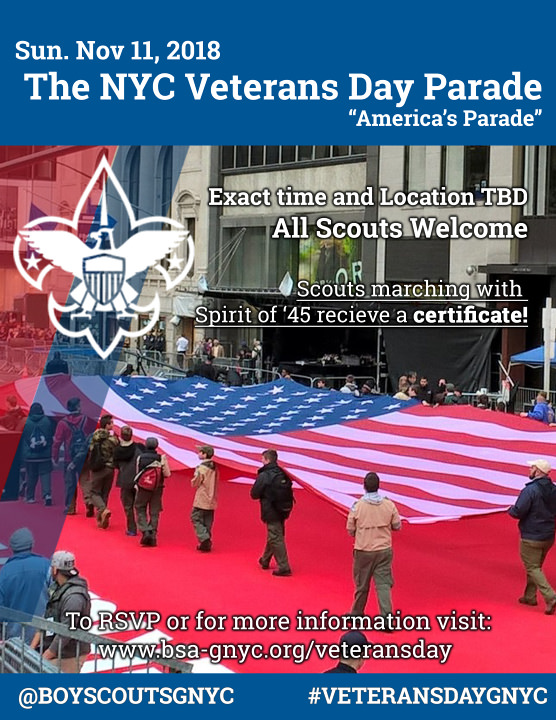 Date:
Nov 11, 2018
Location - TBD
Please read - Important Information!
Thank you for your interest in the 2018 Veterans Day Parade. Please make sure to fill out and submit the below RSVP form for all CONFIRMED marchers. You can resubmit an additional form to add people. To remove people, please email dave.swartz@scouting.org
After completing this form, you will be contacted via email within a few days to confirm attendance. Space is limited and on a first come, first serve basis. So please do not over-estimate your attendees – you might prevent another group from marching.
In previous years, the Spirit of '45 has given a free patch to each scout that marched. This year, they have not guaranteed a patch. If they become available, they will be distributed. However until then, THERE ARE NO PATCHES this year. Please make sure to not promise a patch to scouts or parents. GNYC wants to show appreciation to each scout for marching, so GNYC will provide a certificates for each scout. Details regarding certificates will be emailed out to contact leader.
We may not know the exact meeting time or meeting location until the week of the parade. So please ask parents to be patient and flexible.
All those who plan to march should be in uniform. Other parents or adults not in uniform who are accompanying scouts should be encouraged to walk along the parade and meet scouts at finish. Again, Spirit of '45 asks that all marchers be in uniform!
Please dress for weather – parade will take place rain or shine!